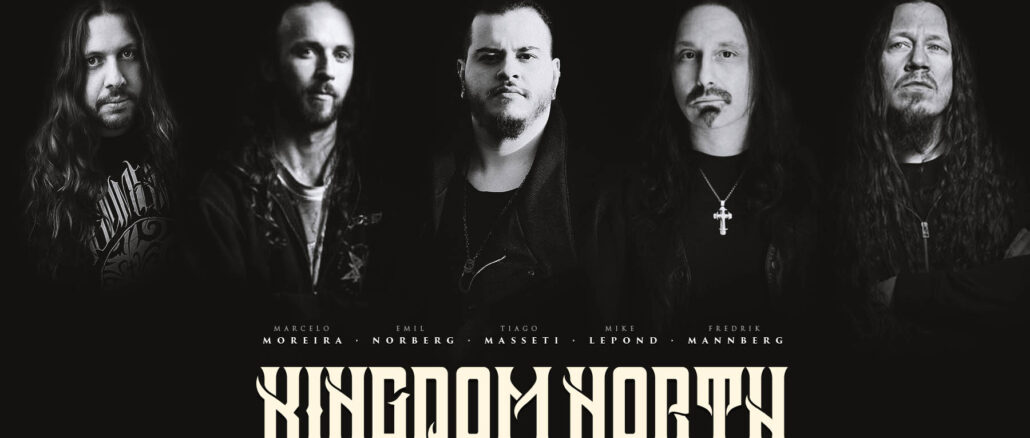 A new international band has just landed in power-metal land, and is aiming to pave the way of a new dawn for a genre in desperate need of new ideas. KINGDOM NORTH features guitarists Emil Norberg and Fredrik Mannberg (Nocturnal Rites / Persuader), Brazilians singer Tiago Masseti (Daydream XI) and drummer Marcelo Moreira (Circle II Circle / Almah) and bassist Mike LePond (Symphony X / LePond's Silent Assassins).
The ensemble was born in late 2016, in the far north of Sweden, when Norberg joined forces with Mannberg, and put together some music that didn't quite fit their bands at the time.
Heavier, more progressive and more atmospheric than their former projects, the album started shaping up to be something fresh and exciting for the guitar duo. After an extensive quest for the right person to voice these songs, they finally stumbled upon Brazilian prog-metal wunderkind Tiago Masseti. Within a one-song audition, a few lyric drafts and a couple of days getting to know each other, it was clear that Tiago's talent and personality fit the material like a glove.
In a frantic 40-day process the trio completed demoing the entire album, filled with inspiring lyrics, aggressive riffs and soaring vocals. To breathe some life into the songs, the lineup needed a stellar rhythm section. After looking up a bunch of different drummers, they approached Tiago's fellow countryman and power metal veteran Marcelo Moreira. Having performed with acts such as Almah, Graham Bonnet and Circle II Circle, the highly-experienced drummer brought a new vision to the arrangements, along with his passion for the genre and an impressive set of skills.
To fill the bass department, Mannberg approached bass player virtuoso Mike LePond, from the legendary North American band Symphony X. After meeting him several times on the road and throughout many festival back-stages, the guitarist felt he was the right player for the Kingdom North. After hearing the demos, LePond loved the material and came onboard to complete the collective.
(Källa: https://www.sonicperspectives.com)