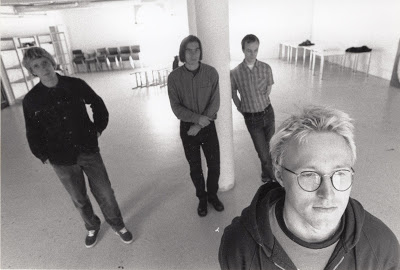 Sångare / låtskrivare Emil Odling bildade Blithe 1990 i den lilla universitetsstaden Umeå med gitarristen Mattias Norlander, bassisten Nils Forsberg och trummisen Johan Nilsson.
Medan de flesta svenska alternativgrupper, som The Cardigans och Komeda (som Norlander också spelar för), styrs av en kitschig sextio-känslighet, styrs Blithe mer av oberoende gitarrrock från Amerika, som The Pixies, Sebadoh och Dinosaur Jr. Blithe formade långsamt ett rykte runt Sverige och släppte album i Sverige 1992 och 1994.
Medlemmar
Emil Ödling (sång, gitarr)
Mattias Norlander (gitarr)
Nils Forsberg (bas)
Johan Nilsson (trummor)
Diskografi
Powers of Flowers: POF 001 (demo) 1991
So far, Happy, Soft, Afterglow
Garageland: BF 642 1991
Dawn, Happy, Feeling, Believe in me, Soft, Blithe, Afterglow
Pagan rituals under a midnight sun (CD)
Westside: WECD 038 Release date: October 5, 1992.
Born to be bored, Sometimes, Paul, Lauren and me, 090, The rainday, First it seems, Holocaust honey, True believer, part 1, True believer, part 2 (The return of popmusic), Lying awake considering a move, OK today, Counting sheep
Westside: WECD 057 1993
Alias: 60104-2 1996
Pioneer LCD 1996
No comfort holden, Hell street, Head is mighty, Lost in the attic, Bike helmet, She's so strange, Plush boy, Mega babe, Goner, Football field, Enemy, Leaving song, Big one
Westside: WECD 093 1995
Pioneer LCD 1995
A106 CD Only promo 1996
Alias: 60106-2 1996
I guess yes, Haven, Now you know, Losefer, Hell of man, Allegiance,Mother Goose, Mind dent, Hardliner,Man/2, Spring clean, Early risers
Singlar
Alias: 60114-7 1995
Hardliner, The rainday
(Källa: Wikipedia)
Artiklar
fozziefanzine.blogspot.com/2018/04/blithe-fran-fozzie-5-1995.html
Bilder
Youtube